Night Hunters
By Dave Baker,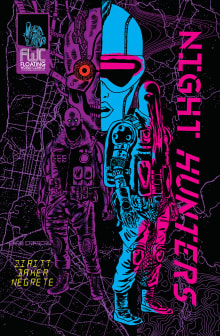 Why this book?
Before a Friday night drink, turn on some heavy metal (or hard rock) and decide if you want to, "Become a cop or die."

 This indie sci-fi graphic novel has style with thought-provoking themes that will make you wonder about our lives in the near future. 
The monochromatic color palette is not only stylistically cool but it frames emotion perfectly well. I loved the raw indie art by Ziritt, feels like a classic tattoo artist took his inks and drew inside comic panels. He frames a lot of statuesque and memorable moments with his violent, dystopian characters.
As an indie artist and writer, it's awesome to see another indie story. Indie at its core is unfiltered, which is what makes it great. It isn't watered down to hit the right tone to sell a lot of copies. It's the creator's voice being heard.
I suggest that you read this one on a Friday evening.
---