What the Dead Leave Behind
By Rosemary Simpson,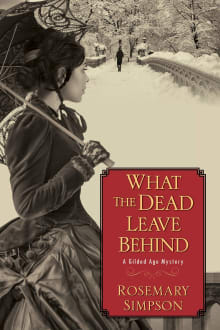 Why this book?
Frances lives in the Victorian Era in London, but in her hometown of New York, it's the Gilded Age. This is her background in all its glittering and horrifying glory. 
Crime novels fit quite naturally in this era. I love a loathsome villain and Rosemary Simpson serves up some of the worst in her Gilded Age series. She uses actual events, like the great blizzard of 1888, as catalysts for some heinous crimes. If you needed to dispose of a body, what better place than a snowdrift? 
Prudence MacKenzie, the dead man's fiancé and our sleuth, doesn't seem to realize the danger she's in. I spent the entire read on the edge of my seat wondering if she'd make it to the end of the book alive. This is historical noir in elegant Gilded Age style.
---