The Athenian Revolution: Essays on Ancient Greek Democracy and Political Theory
By Josiah Ober,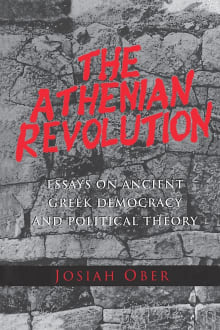 Why this book?
All through my school years, I heard that democracy began in Athens, in ancient Greece. But I never understood how that could have happened. To me, constitutions and democracy began with the American and French Revolutions. It turns out that Athenian democracy too began with a revolution! And it was a situation very similar to our own origins: A democratic revolution in a slave-owning society! And at a time when a "national" identity was just being formed out of local and regional ones. This is a book of essays, and you don't have to read them all. But Josiah Ober is the foremost modern expert on Athenian society and the origins of its democracy, and his essays on that topic in this book are the best accounts we have.
He clearly presents a world that is thousands of years away from us and very strange, but shows how they confronted problems of government and political conflicts much like those we face today.
---