The Keys of Egypt: The Obsession to Decipher Egyptian Hieroglyphs
By Lesley Adkins, Roy Adkins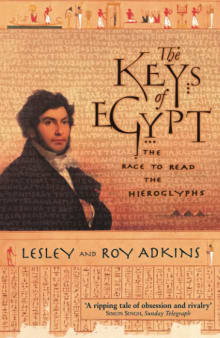 Why this book?
This was one of the first books I read when I began researching my family's passion for Egypt, and it was one of the most interesting.
When Napoleon invaded Egypt in 1798 his troops were astonished to find countless ruins, covered with hieroglyphs – but what did they mean? Being able to read the ancient texts would be the key to unravelling many of the mysteries of ancient Egypt. Determined to be the first to do so was 16-year-old Jean-Francois Champollion, the brilliant son of an impoverished bookseller. This book is a true story of adventure, obsession, and triumph over extreme adversity, and is well worth reading.
---
When you buy a book we may earn a small commission.