Anton Chekhov's Masterpieces: Short Stories ( An Avenger, Gone Astray, A Slander, Frost ) - PART 7
By Anton Chekhov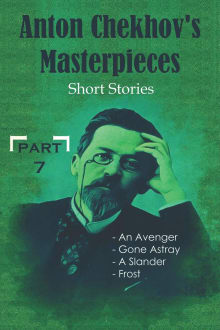 Why this book?
Hold on! Anton Chekhov? Not that giant of Russian literature who gave us some of the most poignant, brooding, melancholy views of family life in dramatic works like The Seagull and The Cherry Orchard? Probably the biggest surprise on this list, Anton Chekhov wrote comedy for years and as a young adult supported his family by writing humorous sketches about Russian life for the magazine Oskolki. While most famous for his plays, Chekhov was an incredibly gifted short story and humor writer. In one of his tightest yarns, "An Avenger," confused young Fyodor Sigaev goes shopping for an appropriate revolver to mete out justice after he discovers his spouse cheating on him. But once at the shop, the sheer number of firearm choices he's presented with quickly overwhelm him. 
". . . I would advise you, M'sieur, to take this superb revolver, the Smith and Wesson pattern, the last word in the science of firearms. We sell a dozen every day for burglars, wolves, and lovers."
---
When you buy a book we may earn a small commission.