Royal Bounty
By Frank Prochaska,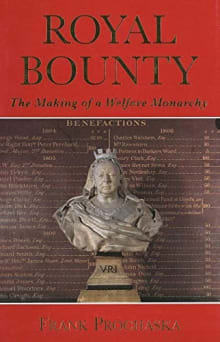 Recommended by William Kuhn
From William's list on the modern British monarchy.
This is the first history that details how the late nineteenth-century monarchy became an engine of philanthropy. As kings and queens were sidelined, or reduced to insignificance, in political transactions, they increased their role in assisting non-profit institutions that contributed to the public good. They gave their patronage, for example, to hospitals, veterans' associations, and civic charities. This gave the royal family an outsized influence in the do-good world, and this itself increased the respect in which the monarchy was held by people of all parties. Frank Prochaska is an American historian of Great Britain, so he brings a healthy objectivity to literature about royalty that is sometimes too credulous and deferential.

---