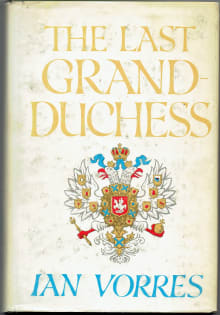 The Last Grand Duchess: Her Imperial Highness Grand Duchess Olga Alexandrovna
By Ian Vorres
Why this book?
A skillfully written account and engaging portrait of Grand Duchess Olga Alexandrovna (1882-1960), younger sister of Tsar Nicholas II. Olga Alexandrovna's life was no less dramatic than that of her brother, Nicholas II. Daughter, granddaughter, and sister to Russian emperors, Olga – a woman devoid of vanity and imbued with a strong faith – lived a life that could never be replicated. Immersed in the splendors of the Russian court, Olga also suffered through the Russian Revolution, and ultimately left Russia for a life of exile in Denmark and Canada. The Last Grand Duchess is Olga's memoirs as told to…
From the list:
The best books on the Romanovs and the Reign of Tsar Nicholas II
When you buy a book we may earn a small commission.