Spectacular Rogue: Gaston B. Means
By Edwin Palmer Hoyt,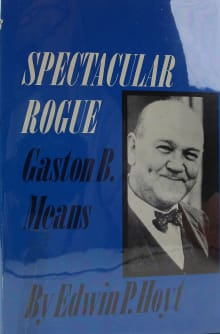 Why this book?
I picked up this biography of notorious Jazz-age criminal, conman, and crooked lawman Gaston Means for research on my own book – early in his career Means was a paid German agent who fed information to my subject, newsman John Rathom. But Hoyt's brilliant book was much more valuable to me than that. It is a master class in how to tell the story of a less-than-wholesome character. Hoyt does not judge Means' criminal behavior. Instead, his deliciously wry language left me chuckling at the towering ambition of the conman's greatest schemes. Who else but Gaston Means would think to exploit the kidnapping of the Lindberg baby to con money out of the wealthy socialite who owned the Hope Diamond? 
---