Ponzi's Scheme
By Mitchell Zuckoff,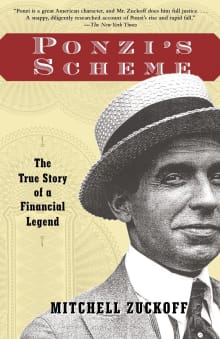 Book description
It was a time when anything seemed possible–instant wealth, glittering fame, fabulous luxury–and for a run of magical weeks in the spring and summer of 1920, Charles Ponzi made it all come true. Promising to double investors' money in three months, the dapper, charming Ponzi raised the "rob Peter to…
Why read it?
2 authors picked Ponzi's Scheme as one of their favorite books. Why do they recommend it?
Mark Arsenault
Before Ponzi was a scheme, Ponzi was a man. His name was Charles Ponzi. He sailed to the US from Europe with nothing – after gambling away his nest egg during the trans-Atlantic crossing – and then made himself an ill-gotten fortune through a swindle so famous it is now named for him. I love learning history, but not through academic texts. I need to learn it through stories. And the critical ingredient that makes compelling narrative nonfiction are the details that enable me to see the characters and their world in my mind. Zuckoff's book put me in Boston…
Glenn Stout
In 1920 Italian immigrant Charles Ponzi tapped into the era's unmatched appetite for greed. The Boston-based swindler and con artist created a pyramid scheme that in a little over a year allowed him to live the high life while fleecing his money-hungry investors of more than $20 million – over $250 million in 2021 dollars.