Nicholas and Alexandra: The Classic Account of the Fall of the Romanov Dynasty
By Robert K. Massie,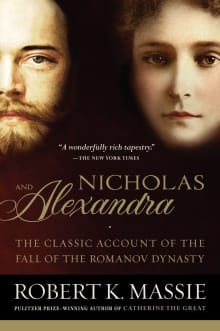 Why this book?
First published in 1967 and received with great acclaim, the book is considered the classic account of Russia's last Tsar and Tsarina. In his riveting chronicle of the life and reign of Tsar Nicholas II (reigned1894-1917), Massie's emphasis is on the imperial couple and their family and the high drama surrounding their son and heir, Tsarevich Alexis, whose hemophilia was a constant cause of great anxiety. The sickly heir's battle with the incurable disease, his mother's reliance on Rasputin for help, and Tsar Nicholas II's devotion to his family all make for compelling reading.

Massie was drawn to write about Nicholas and Alexandra and their son's struggle with hemophilia as Massie, too, had a son who suffered from hemophilia, lending the book an especially poignant note. Nicholas & Alexandra introduced millions to the moving story of Russia's last imperial family. The book was adapted into a successful motion picture with the same title. Massie's taut and elegant prose results in a masterful account that captures the beauty and tragedy surrounding the lives of Tsar Nicholas, Tsarina Alexandra, and their family. Nicholas & Alexandra remains an indisputable classic in the annals of late imperial Russia.

---