The Hard Hand of War
By Mark Grimsley,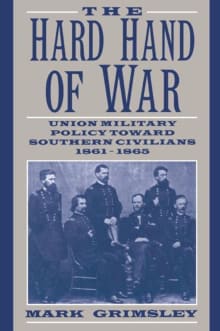 Recommended by Candice Shy Hooper
From Candice's list on William Tecumseh Sherman.
If Campbell's book places Sherman and his strategy and tactics in the context of female Confederate resistance, Grimsley — one of the nation's most innovative thinkers and writers of military history — places Sherman's thinking and actions in the context of the evolution of the United States' treatment of Confederate civilians.
The Lincoln administration policy in the beginning, notes Grimsley, was "to exempt white Southerners from the burdens of war." But by 1864, a "hard war" policy, embracing attacks upon and/or confiscation of Southern civilians' property, had become the guiding military policy of the United States.
Sherman's inventive, carefully planned March embodied that policy. His goal of targeted destruction was designed to leave more than mere hardship in its wake. His army left its victims in terror, humiliation, and despair that contributed directly to the United States' victory.
---