A Paradise of Blood
By Howard T. Weir III,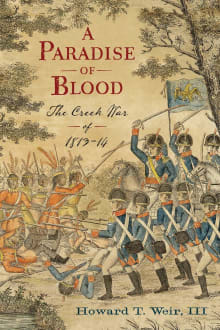 Recommended by Mike Bunn
From Mike's list on the best books to understand the Creek War of 1813 to 1814.
Weighing in at 466 pages, Weir's account of this transformative conflict is the most detailed yet published. He describes in-depth both the iconic events which led to the war and the course of its fighting, including the famed Creek conference at Tuckaubatchee at which Tecumseh spoke, the ensuing Creek Civil War, and the vicious fighting between Red Sticks and American forces at places like the Holy Ground, Autossee, Talladega, and finally at Horseshoe Bend—where more Native Americans died than at any other battle in American history.

---