The Frontiersmen
By Allan W. Eckert,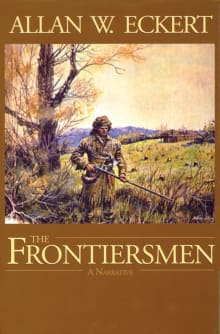 Book description
The frontiersmen were a remarkable breed of men. They were often rough and illiterate, sometimes brutal and vicious, often seeking an escape in the wilderness of mid-America from crimes committed back east. In the beautiful but deadly country which would one day come to be known as West Virginia, Kentucky,…
Why read it?
2 authors picked The Frontiersmen as one of their favorite books. Why do they recommend it?

K. B. Laugheed
The Frontiersmen by Allan Eckert was a life-changing experience for me. I read it as a youth, and Eckert's compelling writing and meticulous research opened my eyes to just a few of the horrific events that happened right here in my backyard—events that enabled me to have a backyard in North America. This book is history as it should be written: a vivid description of true events without editorializing or interpretation. Eckert was a master storyteller who let the facts speak for themselves, and he is a personal hero of mine.
Mary Stockwell
The best history books have a "you are there" quality, meaning you feel like you are actually living side by side with the people in the past. No one does this better than Allan Eckert, especially in The Frontiersmen, a tale of the battle for the Ohio Country, known as America's "First West." In this monumental work, Eckert combines the best research methods of a historian with the best writing techniques of a novelist. The result is a vivid account of the struggle between American frontiersmen, like Simon Kenton, and Indian warriors, like Tecumseh, to win Ohio for their…