Taj Mahal
By W.E. Begley (editor), Z.A. Desai (translator),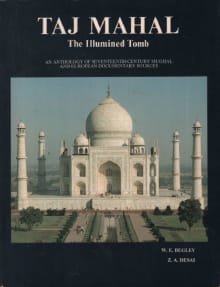 Recommended by Giles Tillotson
From Giles' list on the Taj Mahal.
This is an anthology of all of the written sources on the Taj Mahal from the period of its construction in the 17th century. It brings together translations of every description or mention of the building in Mughal court histories, or accounts by foreign travellers, and explains all of the historical and religious inscriptions that are written on the building itself. The book is meant for the serious student and lacks narrative flow; but the focus exclusively on written sources dating from the same time as the Taj really helps you understand it in its own time. 
---