Lost City of the Incas
By Hiram Bingham,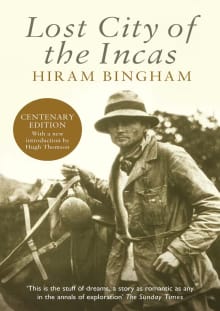 Recommended by Vincent R. Lee
From Vincent's list on discovery of the true Lost City of the Incas.
The story of the "discovery" of the now-famous Inca ruins of Machu Picchu by an obscure Yale professor in 1911. During his first exploring expedition in the jungles of Peru in 1909, the author learned of the final redoubt into which the Incas fled after the arrival of the Spaniards. Called "Vilcabamba," the city had since become lost in the rain forests of the eastern Andes and Bingham was determined to find it. He did but stumbled upon the much finer Machu Picchu, a world-class architectural wonder, in the process.
---