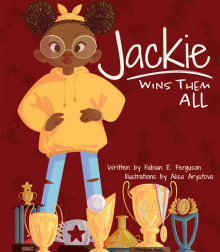 Jackie Wins Them All
By Fabian E. Ferguson, Alisa Aryutova
Why this book?
Talented Jackie seems to be good at everything from tennis to chess. She expects to win the race and is shocked when another girl passes her. Jackie isn't used to losing and the hurt it causes. After acknowledging her disappointment, Jackie reaches out and congratulates her competitor.
This upbeat story features athletes of color who exemplify good sportsmanship and remind readers that "things won't always work out – you can't win them all. Work hard, give your best, and do all you can do." It shows children how to graciously accept defeat.
From the list:
The best picture books to help children develop good sportsmanship
When you buy a book we may earn a small commission.