Cowgirls of the Rodeo
By Mary LeCompte,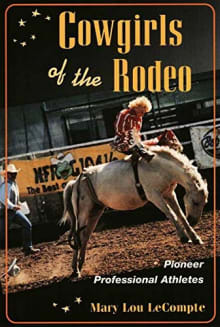 Recommended by Tracey Hanshew
From Tracey's list on cowgirls and ranching women.
This book is a must-read for any fan of cowgirls, rodeo, or female athletes. LeCompte's history of cowgirls whom she identifies as "America's first successful professional women athletes" is one of excitiment equivalanet to live competition. Through the description of early rodeo when women competed with men, performed for presidents and royalty as well as for crowds in the thousands we learn of their athletic talent, their personal sacrifice, and determination to pursue their own careers. They became stars and sometimes won annual earnings that surpassed the men. This thoroughly researched history describes women in rodeo from the mid-1800s to 1992 when Charmayne James Rodman and Scamper set a new world record for earnings in a single event. This book is as exciting as any professional sport.

---