Stikky Night Skies
By Laurence Holt,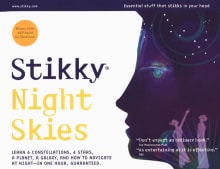 Recommended by Stephen M. Kosslyn
From Stephen's list on the science of learning.
I've bought this book at least a half-dozen times, giving it as a gift to friends who have kids in middle school or who are interested in how principles of learning can be applied in clever ways. This book is elegant in concept and design, and is one of a series of books Holt wrote that use similar applications of the science of learning to teach readers a set of interesting facts in a way that is almost effortless and a lot of fun.

---