Freedom's Teacher
By Katherine Mellen Charron,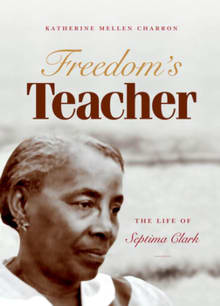 Recommended by Anya Jabour
From Anya's list on American women activists.
Freedom's Teacher traces the lifelong activism of South Carolina-born Septima Poinsette Clark (1898-1987), a public school teacher who developed a citizenship training program that empowered African Americans to register for the vote and cast their ballots. I love this book because it highlights African American women's essential, if often overlooked, role in the "long Civil Rights Movement." For instance, Rosa Parks participated in one of Clark's workshops shortly before launching the Montgomery Bus Boycott. In addition, Charron's study calls attention to the importance of education as a tool for activism.

---