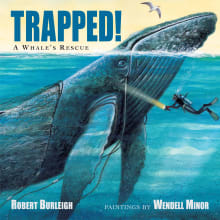 Trapped! A Whale's Rescue
By Robert Burleigh, Wendell Minor
Why this book?
This nonfiction book tells an individual animal's story in a compelling way. The author's spare, lyrical language makes the reader truly feel this whale's panicked efforts to free herself from discarded netting left in the ocean by fishermen. The...whale spirals sideways as spidery lines tighten around her. I had to read on! I won't spoil it for you, but I was cheering at the end. Trapped! A Whale's Rescue, beautifully illustrated by Wendell Minor, helps readers of all ages understand the impact of human activity on many ocean-dwelling animals. Independent readers will love the detailed back matter about…
From the list:
The best children's books about interesting animals
When you buy a book we may earn a small commission.