Streams of Gold, Rivers of Blood
By Anthony Kaldellis,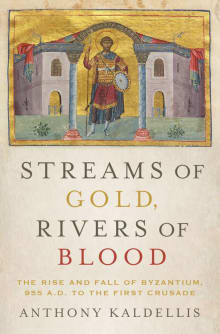 Recommended by Jonathan Harris
From Jonathan's list on Byzantium from superpower to downfall.
Both readable and minutely researched, this book analyses the reasons behind Byzantium's sudden collapse in the mid-eleventh century. Kaldellis offers a refreshing alternative to the prevalent narrative of the achievements of Basil II being squandered by the feeble emperors who came after him. Instead, stress is laid on the problems to which the expanded borders gave rise after 1025 and the very reasonable steps taken by Basil's successors to deal with them. He even comes to the rescue of the much-maligned Constantine IX (1042-1055), an emperor whom Psellus presents as affable and likable but a completely incompetent ruler.
Kaldellis points out how Constantine secured the frontier in Northern Syria through his treaty with the Fatimid caliph of Egypt and how his administrative reforms would have seemed sensible at the time. He drives home the lesson that it is never satisfactory to single out a few individuals to blame for a…
---