A Gathering of Men
By Rona Simmons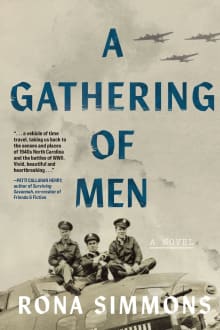 Why this book?
I may be going out on a limb here, but I suspect that Rona Simmons was never a member of the 100th Bomb Group in WW2 combat, which makes this book all the more remarkable. It is her choice of details that make the story so convincing, powerfully evoking the times and the places.  As is often the case with truly great stories, truth trumps fiction. This isn't historical fiction. It transcends genres, which may be a headscratcher for booksellers, but is a delight for readers like me.
The airmen, face the spinning barrels of a gun in a game of aerial Russian roulette on every mission. In a tale of honour, brotherhood, and true courage, with a twist in the tail that could only come from real life. 
---
When you buy a book we may earn a small commission.