Data Smog: Surviving the Information Glut
By David Shenk,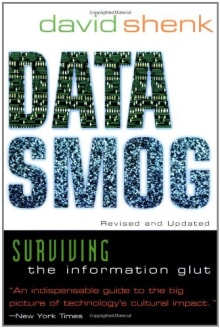 Why this book?
Information overload threatens our ability to educate ourselves, leaves us more vulnerable as consumers and less cohesive as a society, and diminishes control of our own lives. As such David Shenk offers numerous "Laws of Data Smog," i.e: Information is now plentiful and taken for granted. I was immediately impressed by his pithy observations: Putting a computer in every classroom is like putting an electric power plant into every home; education cannot be fixed with a digital pipeline of data. Too many experts spoil the clarity, and lead to the paralysis of analysis.
The law of diminishing returns, says Shenk, applied to the growing speed and abundance of information, will produce an infoglut that will no longer add to our quality of life. Infoglut is already cultivating stress, confusion, and, yes, ignorance. I have found this to be too true!
In a glutted environment, he says, the most difficult task is finding a receptive audience. As information volumes increase, our common discourse and shared understanding decrease, and people turn to niche media and specialized knowledge.
Here is something that we've all experienced: Amidst increasing distraction and speediness, beware: Lies and mistruths will move so much faster than the truth, they will too often become the truth. On the web, most roads bypass journalists, reducing the power of the press and enhancing the power of public relations. What can we do? He offers many ideas for readers, that work for me: he suggests sweeping away clutter, resisting advertising, limiting e-mail, turning off the TV, avoiding information iniquity, practicing voluntary simplicity, and reaching across niche boundaries.
---