Menno-Nightcaps: Cocktails Inspired by That Odd Ethno-Religious Group You Keep Mistaking for the Amish, Quakers or Mormons
By S.L. Klassen, Michael Hepher (illustrator),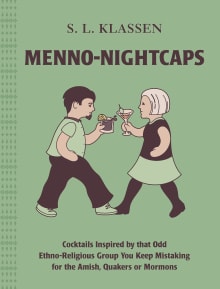 Why this book?
I love to cook, and given the passion Mennonites have for potlucks, this list wouldn't be complete without a favorite cookbook recommendation. The trouble is, which one? There are so many classics. I grew up with the worn and scribbled-on pages of The Mennonite Community Cookbook and later the More-with-Less World Community Cookbook, but ultimately decided on Menno-Nightcaps because, well, I warned you this list is eclectic, right? This book is loaded with not just yummy, practical drink recipes, but loads of Mennonite history. My own husband wooed me with stories of his ancestor who supplied George Washington's troops with whiskey. How could I not love a book like this? Trust me, it'll be fun and you'll never view Mennonites in quite the same way.  
---