History of Madness
By Michel Foucault, Jonathan Murphy (translator),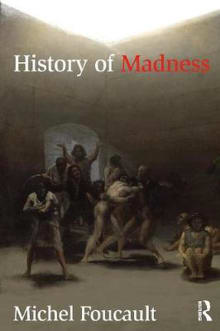 Why this book?
Foucault's classic 1961 book, History of Madness, was republished in 2006 in its entirety, exposing the serious omissions of the earlier English translation. In its full form, it stands the test of time as a groundbreaking book that exposed the origins of the modern rational self as the product of repeated attempts to understand, exclude, contain, eliminate, and treat 'madness'. Foucault's main argument was that since the Renaissance, our understanding of madness shifted from a philosophical phenomenon into an objective medical science. In the Renaissance, madness could still provide wisdom and insight. Yet, during the 17th and early 18th Centuries, numerous institutions of confinement, such as asylums and poor houses, were established to contain both madness and economic redundancy.'

Foucault characterises the modern experience of madness as defined purely by medical science. He claims this perspective is limiting and definitely not a move towards the 'truth' of madness. His critical views on psychiatry were caught up with the anti-psychiatry movement of the 1960s and 1970s but his thesis was far more sophisticated than that, essentially explaining how rational Western thought relied on the denial of the madness of humanity. It is hard to underestimate the extent to which Foucault's work has influenced intellectual culture in the late Western world as it has struggled to comprehend its liberalism.
---