AMA: A Modern Tex-Mex Kitchen
By Josef Centeno, Betty Hallock, Ren Fuller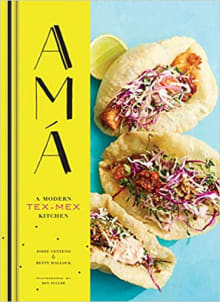 Why this book?
Josef Centeno honors the food he grew up with in San Antonio. The book is named for his great-grandmother, "Ama´" and the influence of both his family, and his life as the chef of Los Angeles's Bar Ama permeate the book. "Reimagined" is the word Josef uses to describe his recipes, and I think it's a perfect descriptor for his particular vision.

Chef Centeno's taste leans towards acidic, with lots of citrus and vinegars. Words like pickled and vinaigrette appear often in recipe titles and there is no shortage of chiles and salsas. I learn something every time I make a new recipe from this book, which is something I aspire to have my own cookbooks to do for others.

---
When you buy a book we may earn a small commission.