Duct Tape Marketing The World's Most Practical Small Business Marketing Guide
By John Jantsch,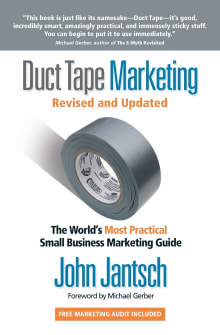 Why this book?
Duct Tape Marketing is probably the best "if you could only have one book" guide to marketing for small businesses. Written by a guy who's been "in the trenches" working with small businesses on their marketing for over two decades, it's practical and actionable and keeps you firmly focused on what's really important to succeed, not on "flavor of the month" tactics.
It's a great book for non-marketing people. And it very much focuses on setting up systems and processes so we get consistent results from our marketing. In other words, the boring stuff we tend to avoid but that actually makes the most difference!
---