Beep! Beep! Go to Sleep!
By Todd Tarpley, John Rocco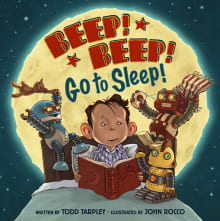 Why this book?
I love this rhyming bedtime picture book for all its kid-friendly robotic vocabulary and the beautiful art that is full of clever bits to discover over multiple reads. This book is one of my favorite picture books to gift at baby showers and young kids' birthday parties. This book has it all – all the way to the sweet twist ending!
---
When you buy a book we may earn a small commission.