There Might Be Lobsters
By Carolyn Crimi, Laurel Molk (illustrator),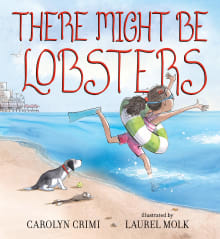 Why this book?
Eleanor takes her dog, Sukie, (along with Sukie's stuffed friend, Chunka Munka) to the beach. But Sukie is such a little dog and the ocean is so big! Besides, there might be lobsters! As Sukie's fears and anxieties mount, it's fun to use your own version of a puppy voice to read the dog's thoughts aloud. It's a great empathy piece and talking about Sukie's fears with your little ones may open conversations about what makes them anxious. Crimi offers up a just-right sweet ending that makes me want to read it all over again.

---