Old Rock (Is Not Boring)
By Deb Pilutti,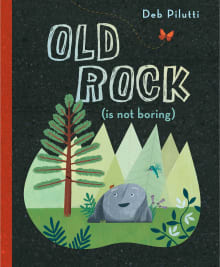 Recommended by Lisa Wheeler
From Lisa's list on picture books that are even better read aloud.
Old Rock's friends think that he has a boring life. Yes, he's been sitting in the same spot for many, many years. But Old Rock tells them about the time he flew (out of a volcano!) and the dinosaurs he met and the time he lived inside a glacier. Seems Old Rock's life has not only been long, but very exciting! With the various characters in the book, there's fun dialogue begging to be read aloud. Your budding geologist, paleontologists, and historians will love to hear you read this book aloud.

---