Make Social and Emotional Learning Stick!: Practical Activities to Help Your Child Manage Emotions, Navigate Social Situations & Reduce Anxiety
By Elizabeth Sautter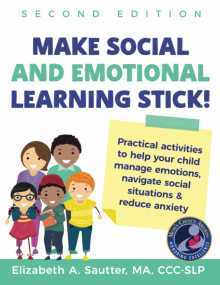 Why this book?
So often, executive functioning challenges like impulse control, difficulties with attention, and trouble with organization are thought of as isolated skills to be taught as an "add on" lesson. However, there are easy ways to teach executive functioning skills as an "add IN" to what parents and educators are already doing throughout the day. I recommend this book because it helps teach executive functioning in everyday routines, like cooking, going to the store, and on the playground. 
I really love the colorful and ready-to-use pages in this book! The author also sells a really cool card deck you can get to take with you "on the go" to boost not only executive functioning but also emotional regulation and social communication.
---
When you buy a book we may earn a small commission.