10 Spooky Pumpkins
By Gris Grimly,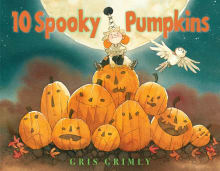 Why this book?
The absolutely gorgeous watercolors in Cris Grimly's 10 Spooky Pumpkins jumped out and stole my heart! Rich color and high contrast pump up the Halloween mood, while his sensitivity to letting the washes flow in their own way shows a freedom and respect for the watercolor medium.
Grimly's characters, including witches, ghosts and goblins to name a few, are stylized enough to balance the creepy with fun originality. Outlining watercolor with an ink line can flatten the art. But Grimly picks and chooses his sepia line work to draw you into detail, and then holds off to let the washes sing, creating great depth and space in his scenes.
This book makes me want to paint more night scenes! Thanks, Cris Grimly!
---