Scaling Leadership: Building Organizational Capability and Capacity to Create Outcomes That Matter Most
By Robert J. Anderson, William A. Adams,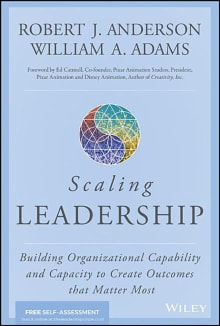 Why this book?
This book posits that the most important function of an organizational leader is to create other leaders throughout the organization. That's right…not problem-solving, not clever strategy, not vision but leadership development. That's because those other aspects are "table stakes" for the game of leadership in today's complex business world. What I like about this book is that it is based on a huge pool of data about what makes leaders effective in the 21st-century and many of the insights are drawn from leaders themselves….from the feedback they give when they evaluate other leaders using the Leadership Circle Profile 360° assessment. It's a nice marriage of relatable info "from the horse's mouth" and decades of leadership theory borne out by insights from the assessment of hundreds of thousands of leaders. If you want to very specifically know what it takes to be a 21st-century leader, this book is a great place to start.
---