Amazing Evolution: The Journey of Life
By Anna Claybourne, Wesley Robins (illustrator),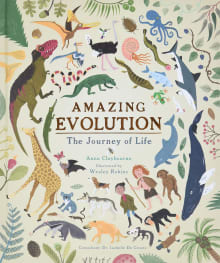 Why this book?
I wish I'd had this richly illustrated book as a curious 10-year-old who wanted to learn about evolution in a very fact-based way. Packed with explanations, illustrations, lists, and definitions, Amazing Evolution helps kids self-educate around how and why evolution happened – from the origin of life in the sea to the first creatures to survive on land, through to dinosaurs and convergent evolution in mammals. A great book for an older primary kid who wants to understand how all life is related, but wants to find it out themselves. And the "Fact File" at the end of the book is jam-packed with the kind of amazing information that will make readers want to say "Did you know…?" to everyone they see!
---