Our Family Tree: An Evolution Story
By Lisa Westberg Peters,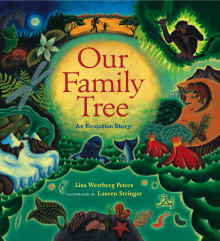 Why this book?
I love the simple, evocative way this story is told through a visit to the beach and the sketching in the sand of creatures representing various stages in evolution, from the first cells to human beings, reminding us of what we share with these long-lost ancestors and what divides us from earlier life forms. This picture book for children aged 4 to 7 distills a complex subject with verve and imagination and deserves a place on your child's bookshelf.
---