Saltwater Slavery: A Middle Passage from Africa to American Diaspora
By Stephanie E. Smallwood,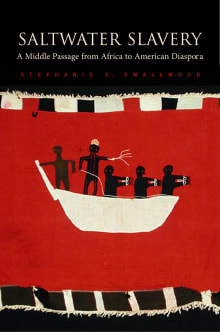 Why this book?
Relying primarily on Royal African Company records, Smallwood reconstructs the forced migration and enslavement of approximately 300,000 African men, women, and children who were transported in English ships from the Gold Coast (modern-day Ghana) to the Americas between 1675 and 1725. She traces their dehumanizing journey from captivity in European forts on the West African coast through commodification at sea to sale in slave markets in the Caribbean and North America.
Through careful analysis of quantitative data, Smallwood tracks the processes of commodification that underwrote the transatlantic slave trade while simultaneously foregrounding the human experience of captivity and migration. This book offers a model example of innovative historical writing.

---