Green Illusions
By Ozzie Zehner,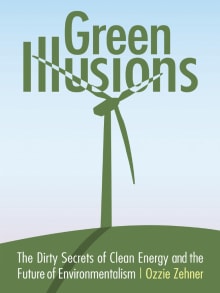 Recommended by Max Wilbert
From Max's list on on environmental books.
Most environmentalists today believe that wind turbines, solar panels, and electric cars represent our path to a sustainable future. In Green Illusions, engineer Ozzie Zehner blows this thesis out of the water.
Green technologies, Zehner explains, require fossil fuels at every step in their production, maintenance, and disposal. But he is not advocating for continuing to use fossil fuels. Rather, Zehner argues that we have a consumption crisis, and that building more industrial products in factories will not solve the issue. He concludes by offering straightforward, common-sense solutions that actually move us in the right direction.
---