Rich Dad Poor Dad
By Robert T. Kiyosaki,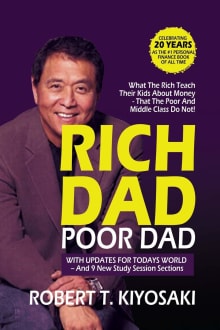 Recommended by K.N. Kukoyi
From K.N.'s list on developing an entrepreneurial "growth" mindset.
A friend recommended this book to me. At the time I was looking to expand my thinking about business and also started delving into the world of financial education.
Rich Dad Poor Dad aims to help the reader to consider their thoughts and actions and the path which they are on and offers an alternative to what the "herd" is doing, with a move towards very strategic activities when it comes to lifestyle, money and how you think about and use it. Reading this book led me to discover Kiyosaki's Cashflow Quadrant.
The idea is to move beyond the left side of the quadrant which includes being an Employee (E), or Self-employed (S) across to the right side of the quadrant, towards being a Business Owner (B) and Investor, (I) for greater freedom and control over life through more focus on activities which can be game changers!
---