Malignant
By Vinayak K. Prasad,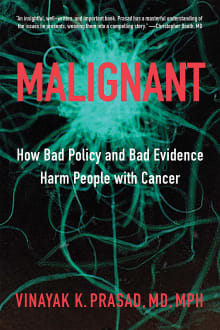 Recommended by Frank S. David
From Frank's list on prescription drug discovery and developed.
Since Nixon's "War on Cancer," oncology treatment has seen some great advances, but also the approval of scores of over-priced drugs that do little to improve patients' quality or quantity of life. Oncologist Vinay Prasad has written a broad, accessible overview of the flaws of modern cancer drug development that spans clinical trial design, conflicts of interest, regulatory policy, and more. His unabashedly anti-pharma stance gets preachy in places, but most of the challenges he identifies are spot-on and provide a thought-provoking roadmap for the future.
---