The Best Game Ever
By Mark Bowden,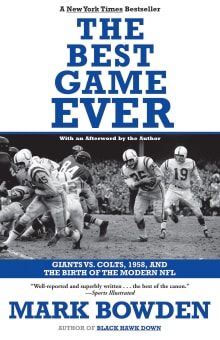 Recommended by Larry Olmsted
From Larry's list on Sports Fans.
I'm a big fan of bestselling author, journalist, and incredible researcher Mark Bowden, but this is easily his least well-known work. For those not up for the 1000+ pages of Guests of the Ayatollah or Killing Pablo (the basis for the Netflix series Narcos) or the staggering intensity of his true war tale Blackhawk Down, this is a more digestible choice. It simultaneously showcases three very different things about sports in America. First, how the NFL ascended to primacy using the new medium of television to surpass baseball and become the most popular sport. Secondly, how nationally televised sporting events became an integral part of our social fabric and the biggest broadcasts of any kind. Finally, for football fans, Bowden explains the seismic transition in the passing game, elevating the sport from an art to a science.

---