Has It Come to This?
By J.P. Sapinski (editor), Holly Buck (editor), Andreas Malm (editor)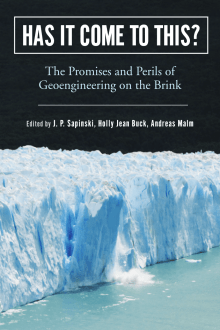 Recommended by Philip Mirowski
From Philip's list on the politics of science.
I don't often praise edited collections, but this book is the most clear-eyed discussion of our current predicament in the face of worsening global warming I have ever encountered. The authors argue that the political 
deployment
 of geoengineering to 'save' us has become essentially a foregone conclusion—forget all that wishful Green New Deal happy talk. They then proceed to argue out the various potential political scenarios concerning what this means for future politics. Read this and weep.
---