Drum Dream Girl
By Margarita Engle, Rafael López (illustrator),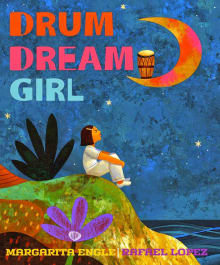 Recommended by Ana Siqueira
From Ana's list on fabulosos Latinx picture books.
This rhythmic book will take you on a magic drum trip with this Chinese-African-Cuban girl, who broke the taboo of girls not being allowed to play drums. This is a poem song filled with rhythmic words, sounds, and heart. Beautiful words, beautiful art,  gorgeous story. I hope after reading it, you'll feel inspired to dance and to dream. I danced around the house, then I sat down and wrote beautiful stories and dreams. 
---