Draw Breath
By Tom Granger,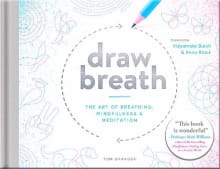 Recommended by Dan Brulé
From Dan's list on breath and breathing.
Tom is a creative artist and has managed to write one of the best books I know of to awaken and unlock your natural creative abilities along with the physical, emotional, and psychological benefits of Breathwork. Simply grab a pen or pencil and breathe. Make your pen or pencil an extension of your breath. Use your pen to track each breath, for example moving your pen up with the inhale and down with the exhale. And that's just the beginning. His book is filled with illustrations you can copy and trace, to reset your nervous system, and create ease and calmness. You'll find his guided breathing exercises and "free breathing" exercises to be simple yet powerful ways to creatively connect to your mind and body, and especially to attune more deeply to your breath and spirit!
---