The Heart of Yoga: Developing a Personal Practice
By T.K.V. Desikachar,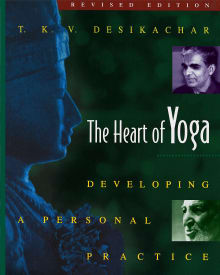 Why this book?
This book is my go-to when anyone asks me to recommend the best book for learning and understanding yoga. It's one of the few that integrates actual yoga practices with the meaning of yoga in clear, concise language, including a wonderful translation of Patanjali's Yoga Sutra embedded within. The yoga of linking body, breath, mind, and relationship in a series of vinyasa kramas is timeless and doable. Each chapter is organized around a theme from the Yoga Sutras. The historic photos of the author and his world-famous yogi father, T. Krishnamacharya (who was the teacher of teachers, responsible for the wide reach of global yoga) are wonderful to peruse, as is the interview with Desikachar himself. 
---