Driving Miss Norma: An Inspirational Story about What Really Matters at the End of Life
By Tim Bauerschmidt, Ramie Liddle,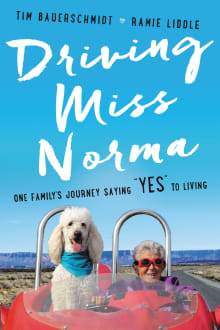 Why this book?
Recently widowed and diagnosed with cancer, Norma the nonagenarian skipped the chemo and hit the road with her son and daughter-in-law, who penned this account of taking Norma across the USA in an RV. 
Formerly seen as a quiet wife and mother, her travels restored the adventurous, fearless woman she had been in her younger days. She reminded me that loss and fear can be part of your life, but don't have to define it. That life is about more moments, not more minutes. And that it is never too late to have an adventure. Miss Norma is not just an inspiration for who I want to be when I'm 90, Miss Norma is an inspiration for who I want to be right now.
---