Storytelling for a Greener World: Environment, Community and Story-Based Learning
By Alida Gersie, Anthony Nanson,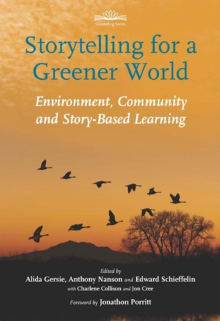 Why this book?
Mother Nature must be very grateful this handbook exists. Within its 368 pages is a treasury of time-tested stories, creative activities, and methods that environmental educators and storytellers can use to affect people's pro-environmental behaviour. Its collection of 21 chapters share a myriad of ways to use storytelling for a greener world. Each chapter has a different author(s), bringing their perspective on environment, community, and learning through stories. They explore the links between storytelling and emotional literacy, place, environmental justice, connecting with alienated youngsters, how to encourage children and adults' curiosity about nature, building community, sustainability, and indigenous peoples, local legends, human-animal communication, and how to co-create a sustainable future together.
---