The Power of Narrative: Climate Skepticism and the Deconstruction of Science
By Raul P. Lejano, Shondel J. Nero,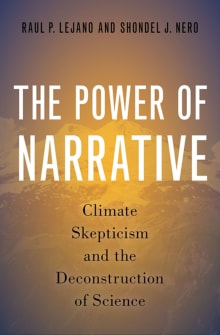 Why this book?
People make sense of their experience of the world through the stories they tell each other. These stories bind people together into social formations. This is as true for climate change as it is for many other bewildering or unsettling phenomenon. Lejano and Nero start from this premise and show how the narrative of climate skepticism has been able to forge a social movement and stake a challenge to the hegemony of the larger community of scientists on what is regarded (falsely) as a matter of science. Using narrative and discourse analysis, richly illustrated with examples, the book takes the reader on a journey, across times and places and social realms; throughout, the power of narrative is revealed, making believers, or skeptics, of us all.
---