Smithsonian Q & A: Penguins: The Ultimate Question & Answer Book
By Lloyd Spencer Davis,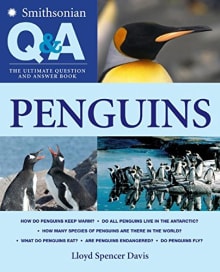 Why this book?
This is an incredibly informative and fun book! The author is a field researcher who has written many books about penguins - all imbued with his cheeky sense of humor. The Q&A format makes this book easily digestible for both adults and kids. Each themed chapter has many questions that are answered with a few paragraphs and photos. The answers are both detailed and succinct. The Q&A format even works well for those with dementia. When my father had Alzheimer's, and could no longer comprehend what he was reading, he actually read this book for a few solid hours, often turning to me to say, "Did you know that penguins could…[x, y, z]?" I already loved this book - but this gave it a permanent special place in my heart.
---