Ivan's War: Life and Death in the Red Army, 1939-1945
By Catherine Merridale,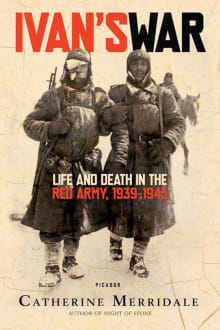 Why this book?
Merridale uses archival material and interviews with Soviet war veterans to personalize the war on the Eastern Front. This work moves beyond the number of combatants and tanks to focus on real life at the frontlines. She talks about issues that help the reader "feel" the war: what did soldiers eat given the well-known shortages and privations throughout the USSR; how did soldiers get warm clothes and boots; how did they obtain ammunition and artillery shells and new guns despite the long supply lines; was stealing accepted in the army; what behaviors were tolerated and which ones were punished; how did hierarchy allow officers to get first choice of captured enemy equipment. She reveals how officers might not report all the dead in their unit so they would not lose the lost soldier's food ration. While Alexander Werth's Russia at War provides a sweeping view of Soviet organization, suffering, and battles, Merridale provides a texture rarely found in books on war. 
---