Tower of Skulls: A History of the Asia-Pacific War: July 1937-May 1942
By Richard B. Frank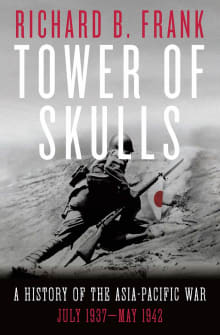 Why this book?
Until about twenty years ago writers about World War II tended to treat the contest between the United States and Japan as separate from, and more significant than the other conflicts that engulfed China and Southeast Asia between 1937 and 1945. Today many historians, including almost all academic ones, speak of an "Asia-Pacific War" as a more accurate and appropriate description for this destructive era. Tower of Skulls, is the first general history that not only integrates the conflicts in the Pacific with those in mainland Asia but also demonstrates the close interconnection between them.

The first of a proposed trilogy, Frank's book covers the period from the outbreak of the Sino-Japanese War in 1937 through Pearl Harbor and the Japan's conquest of an empire rivaling Genghis Khan's to the eve of the Imperial Navy's first setback the Battle of the Coral Sea.  Despite its formidable length, the book is a clearly written and an engaging read. Prodigiously researched with over 150 pages of notes, it seems likely to be the definitive work.
---
When you buy a book we may earn a small commission.